d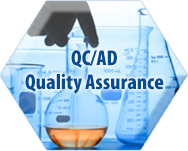 Quality Control, Analytical Development & Quality Assurance
In pharmaceuticals, quality is everything. With expertise in chemistry, assay development, stability, quality control and quality assurance, DDR is a leader in ensuring that your processes meet the strictest of quality standards and that your human resources are utilized to their fullest.
Past projects have included:
Analytical Assay Development
Method Transfer and Validation
Testing Lab Selection and Management
Development of Stability Protocols
Management of Stability Programs
GMP Facility and System Audits
Development and Management of Document Systems
Quality Investigations
Quality Oversight of Operations
Case Study: Stability Data
Initial Client Contact: Loss of stability program manager, no clear business process for obtaining, viewing, processing and disposition of data from contract labs;
Reviewed both vendor data on stability testing and production of observation memos
Performed trending analysis on stability data
Discovered significant issues—majority of stability data being used without complete review
Assisted in design of stability data review business processes
Designed training slides for CQC SOPs
Trained stability staff on data review
Wrote regulatory filings based on stability data
Trained staff on methods
Quantitative Impacts: 100% of stability data now reviewed. DDR able to run program for client more accurately and less expensively than hiring internal staff.